27 March 2018: Hamish and Lachlan Davidson share their experience at the Port Fairy Folk Festival in March 2018. Featured within is footage from the Davidson Brothers' shows, and their collaborative show with Joe Camilleri and The Black Sorrows.

5 February 2018: Daniel Marolla produced and directed a second music video for the Davidson Brothers, this time for their song All You Need is Music. The video was made in regional Victoria and features actors Veronika and Tristan McLindon. We hope you enjoy it!


Photo: Laurie Bullock

27 JANUARY 2018: The Davidson Brothers won two Golden Guitars at the Australian Country Music Awards. Evelyn's Kitchen won 'Instrumental of the Year' and Back Where I Started won 'Bluegrass Recording of the Year. Hamish and Lachlan have now won the Instrumental Golden Guitar four times, equalling the record in this category set by The Flying Emus 27 years prior.


MEDIA: CLICK HERE FOR HI RES IMAGE

10 OCTOBER 2017:
For his incredible musicianship and tireless dedication to bluegrass music Thomas received a $1,500 cash grant from the Davidson Brothers' Australian Bluegrass Scholarship. The biggest part of the scholarship is Hamish and Lachlan Davidson's commitment to ongoing mentorship of scholarship recipients. Thomas also receives a beautiful trophy to commemorate his achievement.

ABOUT TOM:
Tom is a guitar and mandolin player from Essendon, Melbourne. First cultivating a passion for the music of the mountains in the suburbs initially before venturing onto adventures in regional Victoria with his bandmates The Knott Family Band, and further still with friends overseas, Tom strives to bring the old traditions to modern audiences with all the gusto he can muster. He particularly admires the music of Doc Watson, Julian Lage and Tony Rice.

PRESENTATION:
The official presentation of the Australian Bluegrass Scholarship will be at the Knott Family Band's album launch – Wednesday 11 October 2017, at Open Studio, 204 High St, Northcote (Melbourne).

20 March 2017: Daniel Marolla produced and directed the new music video for 'Take a Little Drive.' The video was captured in Victoria's own Brunswick, Macedon and Heathcote. Band members featured in the clip include Andrew Small, Nick Evangelou, Duncan Stephen, Jeremy Marcotte, Anthony Taylor and Grant Arthur.

The Davidson Brothers album "All You Need is Music" was released on 7 April 2017 (Hamish's birthday).

The Davidson Brothers album "All You Need is Music" was released on 7 April 2017 (Hamish's birthday).

September 2016: Hamish and Lachlan were invited by Joe Camilleri to play on The Black Sorrows new album Faithful Satellite and they have done a number of shows together in Victoria. The Faithful Satellite album was launched earlier this month and a music video for 'Fix My Bail' was released on 27 September. The video features the Davos, and you can watch it below. Vika & Linda Bull also sang on this track on the album.

9 May 2016: Jeri Foreman of South Australia is the winner of the 2016 Australian Bluegrass Scholarship. The scholarship now has it's own dedicated website, so you can read the full story at www.BluegrassScholarship.com

In June 2015 Hamish completed a book of banjo tablature which features songs from Australia's favourite bluegrass band, the Davidson Brothers.

Click here to visit our store and purchase the book.

Contained within are tablatures for 28 songs played by the Davidson Brothers on a number of their albums. The tunes are of a basic to intermediate level. If you are a true Davos fan and wish to learn to play their songs on the banjo, Hamish Davidson has put this book together just for you.

SONG LIST: Born to Play; Bottle Cappin', Back Crackin' Blues; City Life; Davidson County; Don't Turn Me Down; Double Plugger Strut; Down Time; Every Time I Leave; Find You; Fox on the Freeway; Fresh Cut Grass; Grass Hound; Hunter Valley Breakdown; I Miss the Sound of Rain; It's a Banjo; It's Not Makin' Love; It's Time to Go; Left Hand Drive; Locky & Hagwinkle; Lost in Amsterdam; My Heart Can't Believe My Eyes; OMFG; Raised on the Road; Rather Be Gone; Scrub Turkey; Take Me to the Mountains; Transpacific; Where I Wanna Be

Hamish and Lachlan have been writing the Bluegrass Truth column in Country Update Magazine since July 2009. CLICK HERE if you would like to browse through the Bluegrass Truth archive.

Davidson Brothers new album Wanderlust has received FOUR finalist nominations in the 43rd Country Music Awards of Australia!!!

Group or Duo
Instrumental of the Year
Alternative Country Album of the Year
Bluegrass Recording of the Year

Also known as the Golden Guitar Awards, the winners will be announced at the Tamworth Country Music Festival on Saturday 24th January 2015.

We our totally blown away with the support from our music peers, fans and the DJ's that play our music. so thanks to you guys, and extra special thanks to our extremely talented band members Jacob McGuffie and Louis Gill.

The new Davidson Brothers album 'Wanderlust' was officially released on Friday 20 June 2014 and was launched at the Corner Hotel in Richmond (Melbourne) the night before. Below, you can watch a behind the scenes video about the making of Wanderlust.

The album was recorded in Melbourne with their live band (Jacob McGuffie & Louis Gill), mixed in Nashville Tennessee, and mastered in Sydney. The album features 11 tracks, all of which are new original songs, 3 of which are instrumental. This is the first album the Davidson Brothers have recorded in Australia since 2003.

CONGRATULATIONS PADDY MONTGOMERY!!
Paddy is the recipient of the 2014 Australian Youth Bluegrass Scholarship. He will receive a $1500 cash grant from the Davidson Brothers as well as a recording package from Pacific International Music.

Click here for more the full story!

Aussie film maker Rowan Ferguson has created a short film titled "Falcon Convertible", a short film about two Australian brothers who overcome natural obstacles in pursuit of fun. There is no dialog in the film and the action paints a picture of what Aussie boys do for kicks in the bush.

26th September 2012 - We have a new DBs track available to purchase at CD Baby!
Click here to purchase "TRANSPACIFIC"

"TRANSPACIFIC" was written and recorded while Lachlan and Hamish were at opposite ends of the Pacific Ocean (Nashville Tennessee & Bendigo Victoria). This energetic and creative instrumental track is semi-contemporary bluegrass with Celtic influences. Guest musicians featured include Michael Bub on bass and David Grier on guitar.


Photo courtesy Billy Joe Went

On Saturday 28th January 2012, the Davidson Brothers WON the FENDER INSTRUMENTAL OF THE YEAR at the Australian Country Music Awards (a.k.a. the Golden Guitars) with their powerhouse instrumental OMFG (MP3 SAMPLE). They were also finaists in the Group/Duo category with their original song WRITE ME A LETTER (MP3 SAMPLE). Visit the boys' Facebook page HERE and give them your congratulations!

The DBs also won the BLUEGRASS and the INSTRUMENTAL awards at the 2012 Victorian Country Music Awards on Saturday 11th February, which were held in South Morang, Victoria.

The DBs won BEST GROUP, BEST INSTRUMENTAL, and ALBUM OF THE YEAR at the 2012 TIARA Independent Australia Country Music Awards on April 1st, which were held in Latrobe, Tasmania.

We have a DBs shirts available in black, blue and white.
Click HERE to go to the shop!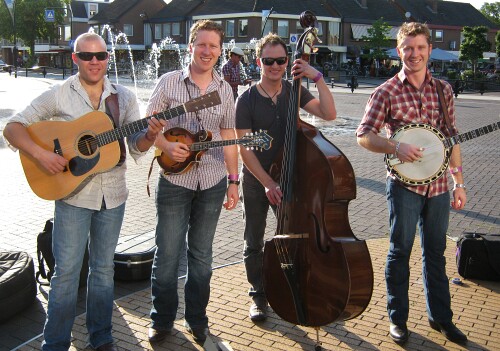 In June 2011, the Davidson Brothers band (including Peter Cooper on guitar and Joshua Verco on bass) completed their first European tour. They were invited to perform at the 2011 European World of Bluegrass in Voorthuizen (Netherlands), so they decided to spend some time touring The Netherlands and Germany, playing mostly festivals and theatre shows. One memorable day on tour involved taking a cab, three trains (they missed their first train, which ended up being derailed anyway....), a bus, and a 6km walk/jog (with their luggage) into the heart of the Dutch woods in Odoorn - and it was most definitely just as much of a party as it was a gig!
| | |
| --- | --- |
| Australia's top bluegrass act, the Davidson Brothers, were invited to be official award presenters at the 21st IBMA Awards Show at the historic Ryman Auditorium in Nashville Tennessee.The annual International Bluegrass Music Awards took place on the 30th of September and is the most anticipated night of the bluegrass year. Other presenters this year included Alison Krauss, Jerry Douglas, The Grascals, Tim O'Brien and WSM host Eddie Stubbs. It's a salute to the year's outstanding achievements during a fast paced evening of fabulous performances and the music's major awards. Celebrating the success of bands over the past 12 months, there will be special performances on the night from Dierks Bentley, Alison Krauss & Union Station, Jerry Douglas, Doyle Lawson, Tony Rice, The Del McCoury Band, Darrel Scott and a rare appearance from bluegrass legend "Earl Scruggs" along with his sons Gary & Randy. This is the very stage where Bill Monroe first showcased his bluegrass boys to the world on the famous "Grand Ol Opry" show back in 1945. | Photo by Ted Lehman |
The Davidson Brothers selected as finalists in the Most Outstanding Musicians category in the Melbourne Prize for Music 2010. Other Top 10 finalists for the Most Outstanding Musician Award include Vanessa Amorosi, the Grigoryan Brothers and Lisa Mitchell. The finalist's work will be on display at Federation Square in Melbourne from November 8th-22nd. This award is supported by Dame Elisabeth Murdoch A.C. D.B.E. and the winner of a $30,000 grant will be announced on November 10th 2010. www.melbourneprize.org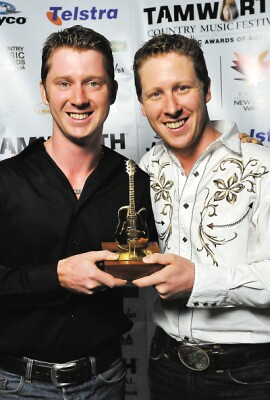 PHOTO BY NORTHERN DAILY LEADER
Congratulations to Hamish and Lachlan for winning
the 2010 Australian Country Music Award for:
BEST INSTRUMENTAL - Fox on the Freeway
The Davidson Brothers were also nominated for:
VOCAL GROUP/DUO - A Showman's Life


L-R: Peter Cooper, Josh Verco, Lachlan Davidson, Hamish Davidson and Daniel Watkins
In Sep-Oct 2009, the Davidson Brothers toured extensively throughout Tennessee, Kentucky, Missouri and Indiana, taking some of Australia's finest young bluegrass musicians with them. Highlights include performing at the International World of Bluegrass in Nashville TN, performing in Rosine KY on the farm where Bill Monroe was raised, performing at Bean Blossom Bluegrass Festival (the longest running bluegrass festival in the world), coming second in a band contest at the Smoky Mountains Fiddlers Convention in Loudon TN, hanging out with Rhonda Vincent and meeting the legendary Ralph Stanley. Hamish & Lachlan also made a guest appearance on Kristy Cox's new bluegrass album that she was recording on Music Row in Nashville at the time. Also, we all enjoyed watching some of our heros perform. It was a huge learning experience for everyone. Aussie Bluegrass Rules!!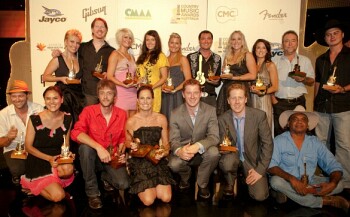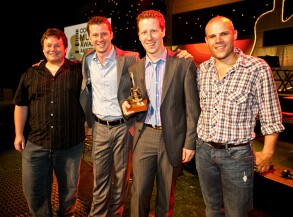 Photos courtesy of Billy Joe (CLICK TO ENLARGE)
2009 AUSTRALIAN COUNTRY MUSIC AWARDS - BEST INSTRUMENTAL
DAVIDSON BROTHERS - 'Left Hand Drive'
Hamish and Lachlan would like to dedicate this special award to their wonderful parents, Fay and Alan Davidson.